Embracing opportunities brings new possibilities for recent grad
Embracing opportunities brings new possibilities for recent grad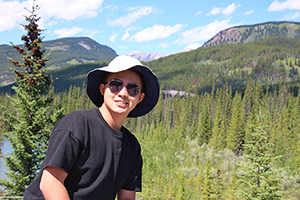 Frank Liu is proud that his undergraduate experience has been a bit unique. While earning his Bachelor's degree in Management and Organizational Studies (BMOS), Liu has studied at three different universities, in three different countries, on three different continents.

"I like to travel, I like to learn, and I'm willing to try new things," said Liu, who will graduate this June.

Liu's undergraduate journey began in his hometown of Beijing, China, where he studied English translation for two years. In 2017, he made the decision to apply to Western and continue his degree abroad.

"My Chinese university was so close to my home. I would ride my bike by the same things every day on my way home. It wasn't the university experience I wanted, so I applied to Western. I really had little knowledge about the university or Canada at the time. When I arrived at Western it was my first time in Canada. It was the best choice I could have made."

At Western, Liu enrolled in the Commercial Aviation Management program, the only one of its kind in Canada, with the goal of pursuing a career in aviation in Canada someday. The program's small size – less than 30 students were in Liu's program – was also a benefit.

"I was really close with others in my program and my professors since it was such a small group," said Liu, who hopes to pursue a master's degree in aviation offered at the University of Waterloo in the future. "Beyond class activities, I also loved helping with programs at the International and Exchange Student Centre and speaking with international students. You're not only in class for four years – you also need the campus experience and exploring the city and building relationships."

His love of exploring also led him to apply for an exchange program in his second year at Western. Although his first choice was a university in Japan, he was offered the opportunity to go to Australia instead and said, 'Why not?"

Liu spent the fall term of 2018 at Australian National University, taking courses, exploring the country and learning about the culture.

"I took art classes, glass design and really enjoyed this special opportunity to take things not offered at Western. Exchange is about exploring and growing. I travelled through Melbourne and Sydney and focused on the beauty of the natural sights," he said.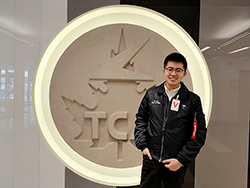 When he returned, Liu became one of Western International's Learning Ambassadors, a group of students who have participated in exchanges or other types of international learning who share their experience and offer advice to current students considering or preparing to go abroad.

"I really loved talking with international students at Western about the opportunities to participate in an international learning experience. It seemed like not a lot of them were aware of them or thought it was an option for them," he said.

Although the aviation situation is a little challenging and unique currently, due to all the travel restrictions as a result of COVID-19, Liu is hopeful he'll find work in aviation operations planning in Canada in the future.

"I'm a little bit nervous with the instability right now, but the world is changing every day and I'm open to new things. I figure it's worth trying something new if it comes up. If I don't like it, I can do something else. If there's an opportunity, I take it. Sometimes you can't predict what will happen – you just need to try to adapt and enjoy."