Recent grad one step closer to dream of becoming transplant doctor
Recent grad one step closer to dream of becoming transplant doctor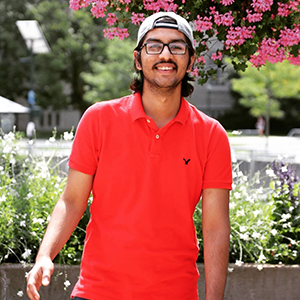 Growing up, Muhammad Uzair Khalid never once hesitated when he was asked the question, "What do you want to be when you grow up?"
"From as far back as I can remember, I knew I wanted to be a doctor. Most kids go through phases where they want to be a pilot for a while, then they want to be firefighters or something, then they want to do something else, and they cycle through different career options. I cycled through medical specialties instead," he said. "Any time my father would see anything about biology or medical-related papers or texts, he would bring them home for me – even when I was really young. I don't remember a time when I wanted to do anything else."
Now, after years of working towards the goal of being accepted to medical school, Khalid is graduating this June, earning his Bachelor of Medical Sciences with an Honours Specialization in Biochemistry and Pathology of Human Disease and a Major in Physics. He was recently accepted into four medical programs across Canada.  
"When I found out I got into medical school, I cried, my parents cried, we all cried. It was absolutely exhilarating," said Khalid, who has accepted his offer to the University of Toronto. "It's been a marathon and you can be filled with doubts and despair. It's so difficult to get in and you really have to keep faith and trust in the process. It's a huge relief."
Born in Lahore, Pakistan, Khalid has spent half of his life there and half in Canada. His family first moved to Toronto when he was one year old. Later, when he was in third grade, they returned to Pakistan for some time and then moved back to Canada, eventually settling in London.
 "It was a longstanding dream of my parents for me to have a better education and more opportunities than I would have had in Pakistan. One of my dreams is to become a transplant surgeon," said Khalid. "My grandfather died from liver cirrhosis. There were no liver transplant doctors in Pakistan. I would love to open a transplant centre there someday."
The choice to immigrate to Canada was made in effort to create a more prosperous future, said Khalid, who has a large family still in Pakistan.
 "Moving to Canada was tough for my family in a lot of ways," said Khalid, who holds dual citizenship in both Canada and Pakistan. "But, it equipped me with a global mindset and a very unique perspective. I saw both ends of the societal spectrum and it helped broaden my perspective of how different places do different things."
That perspective served him well during his time at Western. Determined to get involved in extra-curricular activities and groups that promote inclusivity and diversity, Khalid chose to focus most of his attention on two initiatives, the Muslim Students' Association and International Week at Western, beginning as a general volunteer for both and working his way up to executive and coordinator roles in his upper years.  
"A lot of what I was involved with as part of the Muslim Students' Association was focused on advocacy. We worked to get more halal food options and faith spaces on campus," he said. "We also really tried to take first-year students out of the 'Western bubble' and into the community, where we partnered with organizations on initiatives related to homelessness and child poverty. Some of our focus was on providing food to children, cooking for them and trying to inspire them to pursue education."
In his first year at Western, Khalid signed up to be a general volunteer for International Week, an annual week-long celebration of all things international at Western that includes more than 60 international-themed events.
"I loved volunteering for I-Week so much that I did it every year I was at Western. It gave me the opportunity to work with over a hundred student volunteers from across campus. I like talking to new volunteers and helping to motivate them to find their niche among 30,000 undergraduate students."
Now as he prepares for the next chapter in his life, Khalid is feeling grateful and excited to see what the future holds.
"I still have nine or ten years of school to go," he laughed. "But the word I would use to describe myself is 'lucky'. In ten years from now, I'm not sure exactly where I'll have landed, but wherever I end up it I believe it will be doing something rewarding."