Western Heads East Student Conference
Approaching Equity in Global Health during COVID-19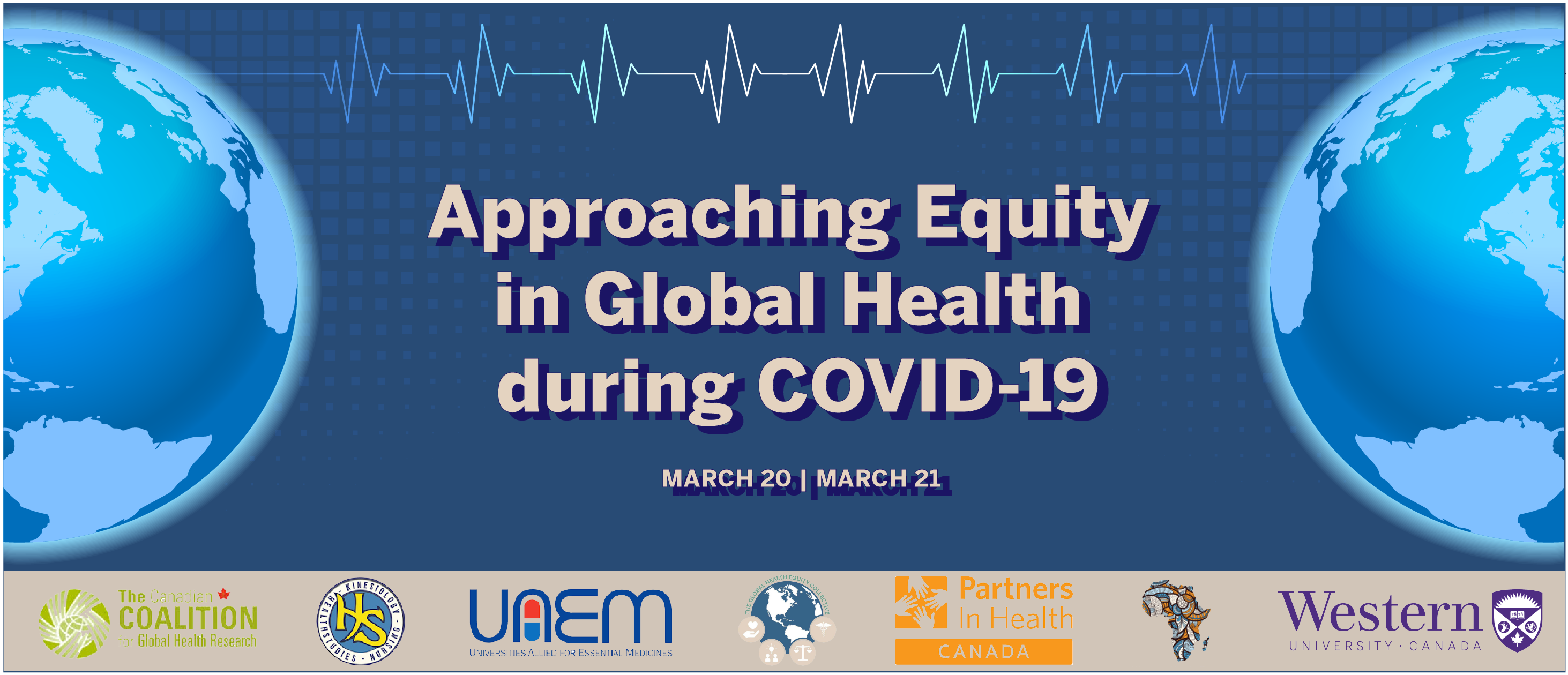 General Information
Dates: March 20th – 21st
Day 1: Speaker series and Workshops (Saturday March 20th 12:00pm-4:15pm)
Day 2: Global Health Case Competition (Sunday March 21st 12:00pm- 3:00pm)
Location: Microsoft Teams - Facilitated through Zoom
Fee: Free
Audience: Undergraduate and graduate students from any field of study.
---
Hey Western!
Presenting Approaching Equity in Global Health during COVID-19, a conference organized by Western Heads East (WHE), Global Health Equity Collective (GHEC), the Faculty of Health Sciences Student Council (FHSSC), Universities Allied for Essential Medicines (UAEM), UWO students for PIH (Partners in Health), Canadian Coalition for Global Health Research (CCGHR).
This is a 2-day conference, providing participants with the opportunity to explore, connect, and collaborate with the healthcare industry; learn from the keynote speakers, the workshops, and your peers.
Check out the general event breakdown below.
A General Breakdown of Events:
Day 1: March 20th - We will have a series of workshops and keynote speakers joining us for the conference.
Keynote Speakers:
Keynote Speaker #1: Dr. Rob Fowler - topic: Effects of COVID-19 on the Healthcare System
Keynote Speaker #2: Dr. Henri Boyi - topic: Ubuntu Ethics in Sustainable Critical Engagement for Higher Education
Workshop #1:
Dr. Elysee Nouvet - Let's get explicit: working equitably in the field of global health) or
Dr. Treena Orchard - Buzzword/Cultural Appropriation: The Ethical Implications of Using South African Body Mapping Methodologies in Global North Research Settings
Workshop #2:
Dr. Stephanie Frisbee - Exploring Fields in Health: How to Navigate Health-Related Careers
Dr. Tsun-Kong Sham - Synchron Light Source: A Platform for Collaborative Research, Global Engagement and International Mobility
Day 2: March 21st - Delegates will be challenged to read, analyze, and develop recommendations for a strategy global health case in teams, and present a completed slide deck to a panel of healthcare industry experts.
This is a great opportunity for participants to share ideas, policies and solutions for issues related to global health equity and COVID-19.
Cash prize will be awarded to 1st place winners.
If students want to compete there is a minimum donation fee of $3 per competing member (ie: if there is a group of 3 competitors, minimum donation is $9).
Students who are attending the case competition without competing are not required but are encouraged to provide a donation. 
Link/info for donations: https://radically-reducing-maternal-mortality.raisely.com/t/westernstudentsforpartnersinhealthchapter
Donations will go towards establishing a Maternal Center of Excellence (MCOE) in rural Kono District, Sierra Leone to provide high-quality care to women and families who need it most, building local health capacity for sustained impact, and creating a blueprint for scaling proven interventions in women's health around the world.
---
You will receive the invitation link upon registration. Be sure to follow WHE Facebook page for more upcoming information about the event.