Freeze-dried probiotics in sachets increase accessibility and impact of Western Heads East program
A Canadian-government-funded partnership with Yoba-for-Life has now expanded the Western Heads East network to more than 200 community kitchens across Tanzania, Kenya, and Uganda.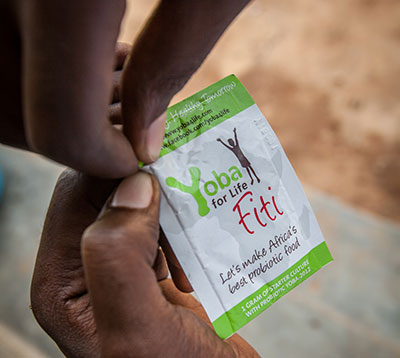 Where previously the probiotic yogurt producers travelled to labs to get the bacteria, now, with probiotics available in sachet format, producers can order their supply of sachets from a nearby hub and store the probiotics for much longer. As a result, access to probiotics has greatly increased and the number of probiotic kitchens in Mwanza, Tanzania, where the first Western Heads East partnership with the Tukwamuane Women's Group started, has grown to over 50.
Yoba-for-Life Uganda created unique sachets containing Fiti (used in Mwanza and Kenya) and their own Yoba (Lactobacillus rhamnosus GG) strain used in southern Tanzania and Uganda. In 2016 Western Heads East partnered with Yoba-for-Life to secure a $1.2 million grant from the Canadian International Food Security Research Fund, which has enabled the rapid expansion and delivery of Fiti products to a much wider population.
"After 13 years and more than 100 Western students collaborating with women's groups, university partners, national institutes for medical research and local NGOs, and students bringing back to Canada lessons in food production, hygiene, health benefits and micro-enterprise business models, it's encouraging to see the results of the expansion," says Bob Gough, current Director of International Internships and Development for Western and founding Director of Western Heads East.
It was 2002 when a powerful speech given by Stephen Lewis, former UN Special Envoy for HIV/AIDS in Africa, sparked the Western Heads East program. Western staff and faculty formed a group and decided to embark on an initiative to collaborate with partners in East Africa to address health and sustainable development within their communities.
Working with Western's Dr. Gregor Reid, internationally renowned probiotics expert and Lawson Health Research Institute Scientist, and Dr. Sharareh Hekmat from Food and Nutrition Sciences, Brescia University College, the Western Heads East team developed a probiotic yogurt program offered through a micro-enterprise structure of locally owned and managed yogurt community kitchens. The community named the probiotic yogurt Fiti – Kiswahili for fit and healthy.
In 2005 the first Western Heads East interns worked with ten members of the Tukwamuane Women's Group who became pioneer entrepreneurs, making and selling probiotic yogurt through their own enterprise, impacting community health, and initiating the Western Heads East program which would go on to affect hundreds of thousands of people.
In 2018, not only are the Tukwamuane women still thriving, but they have stimulated the establishment of a whole network of probiotic yogurt community kitchens across Tanzania and into Kenya and Uganda, with requests for Western Heads East to extend to other countries.
Over two million probiotic yogurt servings have been sold in Tanzania, Kenya and Uganda. Over 500 women entrepreneurs are reaching more than 250,000 people in their local communities. Men, and youth are also engaged across the chain from farming to production and delivery of end-product, as well as in retail outlets.