New partnership brings Fiti probiotic yogurt from E. Africa to London, ON
Western Heads East and Youth Opportunities Unlimited have partnered to bring Fiti probiotic yogurt to Canada!
Production will begin this Fall through the YOU Made It Café at the corner of York and Richmond Streets in London. Come and visit for a taste of the healthy and delicious Fiti probiotic yogurt!
Following the lead of the entrepreneurs in East Africa who run Fiti probiotic social enterprises, in London Fiti yogurt will also be a part of a social enterprise model.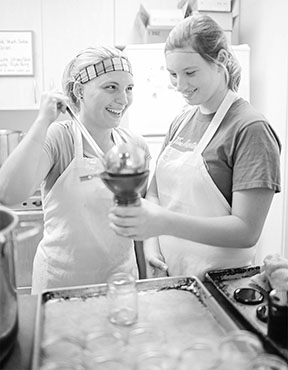 Youth Opportunities Unlimited (YOU) is a non-profit organization whose mission supports youth to build skills, confidence and independence to reach their potential. YOU currently operates youth employment skills training social enterprises, one of which is the YOU Made It Café. The Fiti probiotic social enterprise will be integrated with the Café social enterprise operations and activities.
The Fiti probiotic yogurt has been shown have tremendous health benefits including building immune response, reducing respiratory illness, improving urogenital health, shortening duration of acute diarrhea, removing environmental toxin absorption into the body, and general health and nutrition. YOU is also looking to have the Fiti available to vulnerable populations it serves such as seniors and youth who are served through YOU Made It Café's daily meals and catering. Of the 400 meals per day served at the Café, approximately 200 are targeted to these vulnerable populations.
The Western Heads East program will engage Western students, faculty and staff along with youth social enterprise participants and YOU staff in the retail sales and marketing of the Fiti probiotic yogurt and public health education in London. YOU and Western will also engage in research related to the Fiti probiotic yogurt social enterprise from time to time.
Western Heads East is a collaboration between Western staff, students, faculty and African partners using probiotic food to contribute to health and sustainable development. In 2004, Western Heads East began working with women's groups in Tanzania to establish social enterprises based on probiotic yogurt to empower women economically while bringing health to their community.