11 questions answered about a WHE internship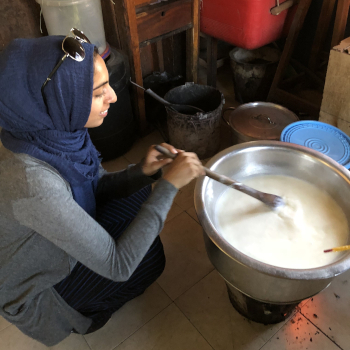 Western Health Sciences student, Anisah Hooda, spent three months in Mwanza, Tanzania last summer interning with Mikono Yetu Center for Creativity and Innovation through Western Heads East. Mikono Yetu, a women's empowerment organization, translates to Joining our Hands and is led by Executive Director, Maimuna Kanyamala. Anisah and her co-interns worked with Mikono Yetu to learn from and support the 50+ Fiti Probiotic producers in the Mwanza region. They mapped out over half of the producers, learning about some of the challenges faced by different groups and successful strategies. The next steps being led by Mikono Yetu involve setting up an Association of the Fiti producers in Tanzania in collaboration with Tanzanian government bodies.
Interviewed by Western Heads East Internship Assistant Coordinator, Melike Celik, Anisah shares about her experience from getting involved on campus, to deciding on an internship, and the challenges and highlights along the way.
Tell us a bit about yourself and your academic program at Western
I'm currently in my third year of the Honors Specialization in Health Sciences Program. I really enjoy the multi-disciplinary approach to health care and the applicability of health science to any field! I hope to one day work in the field of public health and health promotion and be able to make contributions to health and wellbeing on a larger scale.
How did you get involved with Western Heads East?
I just happened to end up stopping and chatting with a few past interns during an event at Western's International Week last year and learned all about the program and internship opportunities. I knew right away that I wanted to get involved and started participating in a few events with the WHE Fundraising and Education Committee and eventually applied for the internship opportunity!
Tell us a little about your internship projects. Who were you working with, where, and what were your goals?
I completed my internship in Mwanza, Tanzania at the Mikono Yetu Center for Creativity and Innovation. There, my fellow interns and I spent my time visiting the yogurt kitchens that had developed and interviews to collect data on the amount of yogurt produced by each kitchen as well their successful strategies and any challenges that they faced. We put all of this data into a map to track the location and progress of the yogurt kitchens and the growth of probiotic yogurt program overall!
One of our goals was to work with the Yogurt Mamas on promoting the health benefits of probiotics and probiotic yogurt as well as developing new probiotic products (juice and porridge) which were well received by the community!
What were your thoughts before departure?
I was definitely a mixture of emotions leading up to my trip: nervous, overwhelmed and also a little sad to be leaving my family and friends for most of the summer. Aside from that, I was excited about the experiences and opportunities that lay ahead.
How was the first month of your internship?
The first month of my internship was busy settling in and getting used to living in and finding my way around Mwanza. I was also still working on getting my projects off the ground and collaborating with the other interns and Mama Maimuna (from Mikono Yetu) to plan the best way that we could achieve our goals. While living and experiencing a new place was exciting, I was also starting to feel a little homesick for my family, friends and my routine back home.
How was your last week of internship?
The last week of my internship was bittersweet. We were busy wrapping up our projects and trying to make sure everything was in place to continue after we had left. It was sad to say goodbye to all the people that made our experience so memorable, but I was also excited to return home and see my family after so long!
What was your favorite food?
In Mwanza, my favourite food was rice, beans and fish made at the market. The fish is caught right from Lake Victoria and tastes amazing fresh off the grill. The fruits in Tanzania are also a bit different, they're sweeter and I've never tasted anything like them, I definitely miss them the most!
What were some of the challenges you experienced?
I faced some challenges in adapting to the more laid-back lifestyle at first. I'm definitely more of a planner who likes to follow a schedule and found it hard to move away from that mindset and just enjoy things as they come.
What did you learn from your internship?
The internship impacted me both personally and professionally by exposing me to new experiences, increasing my leadership and networking skills as well as my overall confidence and independence. This experience has also provided me with a hands-on opportunity to work in a field that I enjoy and open new career possibilities for the future.
What was your most memorable experience?
My most memorable experience was being able to go on a safari to the Serengeti with my fellow interns. The natural beauty of the landscape was unforgettable and the whole experience was absolutely surreal. I can't believe that I actually saw the animals up close that I had only ever seen on TV before! I'd love to go back and experience that all over again.
What would you say to anyone who is contemplating doing an internship with Western Heads East?
I would say to not let your doubts or fears stop you from participating. I was scared of embarking on this journey by myself at first, but I can now look back at this experience and see that I learned a lot and grew as a person – I even made some lifelong friends! It all starts with that leap of faith.