Undergraduate Students from Western and Brescia strive to make probiotics more accessible in East Africa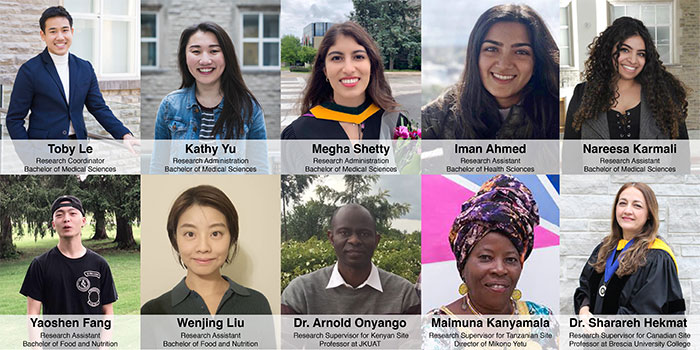 By Iman Ahmed

The summer of 2019 has been a long yet rewarding journey for seven undergraduate students: Toby Le, Kathy Yu, Megha Shetty, Iman Ahmed, Nareesa Karmali, Yaoshen Fang and Wenjing Liu from Western University who have been working together on a collaborative research study for the past eight months with the intent to make probiotics more accessible in Tanzania and Kenya through non-dairy foods. Each of these young researchers have either previously interned or are currently interns for the Western Heads East (WHE) program.
According to the World Health Organization, probiotics are live microorganisms that when administered in adequate amounts confer a health benefit on the host. Dr. Gregor Reid from Western University and Dr. Sharareh Hekmat from Brescia University College worked together to develop a probiotic yogurt using a strain of bacteria called Lactobacillus rhamnosus GR-1. Since then, research studies have demonstrated the significant health benefits of this probiotic yogurt such as reduction of respiratory illnesses, enhanced immune responses, reduction of urinary infections and even reduction of absorbed environmental toxins in the body.
WHE is a collaborative organization between Western staff, students, faculty and African partners using probiotic food to contribute to health and sustainable development. The organization was founded in 2002 by Robert Gough, and in 2004, WHE was responsible for training local mothers in Mwanza, Tanzania on how to produce Africa's first probiotic food in the form of a yogurt. This would be the first of many social enterprise yogurt kitchens that would empower East African women, affectionately called 'Yogurt Mamas', to produce yogurt that could be both profitable and accessible to vulnerable populations. Currently, there are more than 250 yogurt kitchens in East Africa feeding over 250,000 people with this potentially life-saving probiotic yogurt.
As the initiative grew, Western Heads East began to send student interns to work with stakeholders in the Fiti yogurt movement to address key challenges in host East African countries. Our current WHE interns have noticed a consistent challenge among yogurt kitchens in Kenya and Tanzania alike: without a formally regulated milk market and milk collection centres, good quality milk is difficult to find at affordable prices, especially in times of drought. This means that yogurt kitchens are not be able to generate enough revenue to sustain themselves.
In order to address the low milk supply challenge, the seven students began to brainstorm alternative solutions for the Yogurt Mamas. They began to gather previous research findings by Dr. Hekmat and found there was probiotic potential in fruit juices and millet. These results suggested an alternative form of probiotic that would alleviate the need to rely on dairy, thus, offering the mamas a more affordable option to make probiotic products. With financial support from the Africa Institute and Brescia University College, the students then formulated a research study to determine the acceptability of these non-dairy probiotic foods among local university students and community members in both Mwanza, Tanzania and Juja, Kenya.
The group of interns reached out to Dr. Hekmat for guidance and she agreed to take on the role as their supervisor in Canada. "This study will be the first of its kind conducted by a group of undergraduate students traversing across continents to help problem-solve a major challenge within the probiotic yogurt movement," says Hekmat. "I am excited to see the outcomes of all their hard work."
With the input of two local supervisors in East Africa: Dr. Arnold Onyango from Jomo Kenyatta University of Agriculture and Technology, and Maimuna Kanyamala, Director of Mikono Yetu Centre for Creativity and Innovation, it became apparent that producing probiotic fruit juices and millet porridge would offer more accessible and affordable alternatives of probiotics. Thus, a multi-partnership sensory evaluation research study conducted at both sites, uniting Tanzanian and Kenyan partners with the Western Heads East program, is taking place this summer.
The seven student researchers hope to continue supporting the Probiotic Yogurt initiative in East Africa by spreading awareness of the Western Heads Program and encouraging their peers to take part in the Western Heads East Internship.
When asked what he hopes students will take away from this study, Toby Le, research coordinator of the study said, "With this initiative, I want my peers to understand that science can be more than just research discoveries. Science can also be a form of empowerment by providing real-world solutions that are accessible and practical for vulnerable populations."