France Day at Western 2014
Western was pleased to welcome a delegation from France on February 11, 2014, including His Excellency Philippe Zeller, Ambassador of France to Canada, and Mr. Jean-François Casabonne Masonnave, Consul General of France.
The day's events included a presentation from Ambassador Zeller about diplomacy and academic relations between France and Canada, and the strong ties we are creating through both academic exchange and research collaborations. At Western alone, there have been more than 500 manuscripts authored in partnership with French colleagues. In addition approximately 80 students from Western participate in an exchange to France each year, with a similar number coming from France annually to study at Western.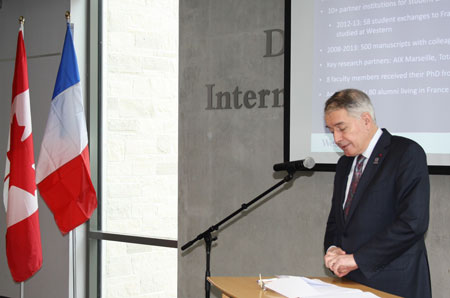 While the Ambassador visited Western he had the opportunity to recognize Professor Alain Goldschlager, Faculty of Arts and Humanities, with the Ordre des Palmes Académiques (Order of Academic Palms) for his work with the International Task Force for Holocaust Education, Remembrance and Research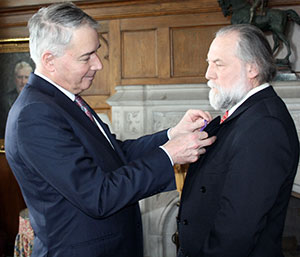 Western also welcomed partners from Aix-Marseille University - the largest university in France - and signed an agreement for closer collaboation in both academic exchange and research collaboration. Additional opportunities were available for both graduate students and undergraduate students to learn about tools for research collaboration and opportunities to study in France.