Introducing Western Worldwide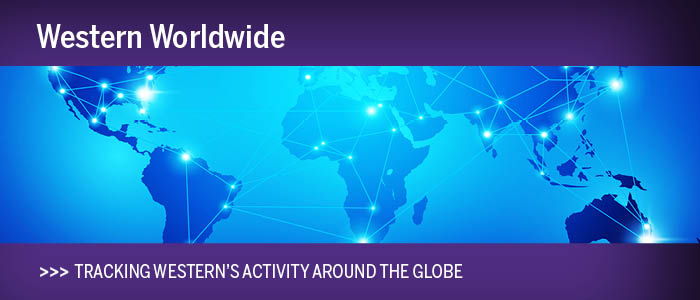 Western International is pleased to introduce Western Worldwide, a new database tool intended to track Western's international activity in one place. Whether it's exchange, research, or another type of international agreement or activity, this tool will give you a high-level view of the university's connections and projects around the world.
Why is it being introduced?
Western's international agreements and activities are initiated and maintained broadly across the university: at the Faculty level, at the department level, in the Research office, within Western International and many other places. A central, shared resource makes it easier to understand the scope of our global engagement, while also fostering opportunities for interdisciplinary projects and collaboration.
What information does it include?
This first phase of Western Worldwide includes international agreements related to student exchange, international research collaboration, study abroad partnerships, faculty exchange, dual degrees and other types of cooperation agreements. A second phase will be introduced shortly to include international student data.
Searchable, Easy, High-Level View
The database tool provides high-level information about the number and types of partnerships by country, and where at Western the partnership is maintained (department level, institution, faculty, etc.). Activities and partnerships are displayed via a built-in, customizable map, with options for graphs and charts.
Who maintains and contributes information?
Western Worldwide has been developed in partnership with Western International, Western Information Systems Group (WISG), the University Secretariat, and Research Western. Western International, the School of Graduate and Postdoctoral Studies, and the Research office will maintain information within Western Worldwide, in cooperation with faculties and departments.
Future Plans
Future plans for Western Worldwide include adding international student data, student international learning (mobility) data, international publications, and information about international alumni, faculty and staff.
Comments or Questions
Comments or questions may be directed to Western International at western-worldwide@uwo.ca or by calling 519-661-2111 ext. 89309.