Call for Applications: Mitacs International Research Opportunities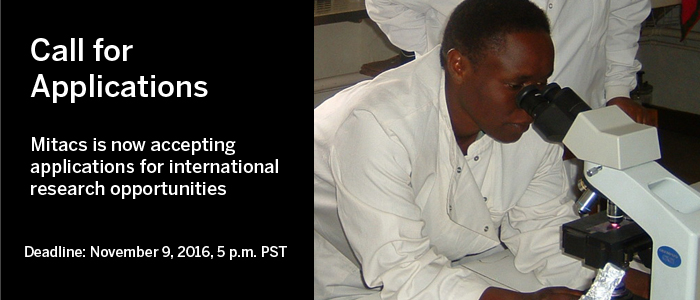 Mitacs International is now accepting applications for competitive international research opportunities! Mitacs Globalink provides travel funding for collaborative research between Canada and several international partners.
Take your research abroad to Brazil, China, France (universities or Inria Research Centres), India, Mexico or Tunisia. Graduate students from all disciplines are eligible to apply for these projects that last 12-24 weeks. Senior undergraduate students are also eligible for select destinations. Please note that funding varies by destination.
Read about the Mitacs Globalink Research Award for more information about destinations and funding eligibility.
Additional opportunities for graduate students include the Mitacs-JSPS Internship, which supports travel to Japan for a 10-week research project in the Summer of 2017.
Mitacs Globalink also offers two-way mobility opportunities with students from French universities and Inria Research Centres being eligible to receive funding to come to Canada to conduct research. Learn more about coming to Canada.
Applications are due by November 9, 2016, 5:00 p.m. PST. Apply today!