Challenge winners offer simple, sustainable solutions for safer water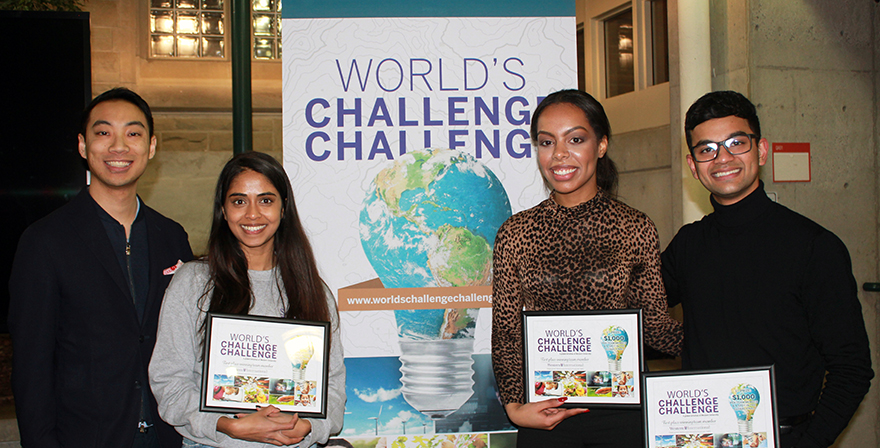 In 2007, Samah Osman's family had been living in the Sudan for just over a year when her sister suddenly became very ill.
"She was really sick from cholera, which is what compelled us to come back to Canada," said Osman.
Cholera is a potentially fatal bacterial infection that can cause diarrhea, severe dehydration, nausea and vomiting. It mainly spreads through the consumption of water and food contaminated with the bacterium Vibrio cholerae.
According to the World Health Organization (WHO), cholera is a global threat to public health and a key indicator of lack of social development, with researchers estimating that every year there are 1.3 to 4 million cases of cholera and 21,000 to 143,000 deaths worldwide attributable to the infection.
"We were lucky enough to be able to come back to Canada to get her what she needed, but I saw a lot of my extended family – my aunts, my uncles, their children – suffering from cholera and it was something that happened to a lot of people I knew. I could see the effects of that on their lives," Osman said.
Fast forward to 2020 and Osman and two fellow Faculty of Health Sciences students, Amalka De Silva and Dwayne Francis, recently earned the top prize at Western's World's Challenge Challenge, a pitch competition that invites student teams to present their solutions to world issues.
Their project, "Teyab for Change," uses cultural clothing to address cholera outbreaks in low-income countries, with an aim of decreasing the number of people who become infected with the disease. It builds on existing research performed in Bangladesh in 2001 that proved that cholera could be filtered out of water using a sari – a traditional garment worn by southern Asian women that consists of several yards of lightweight cloth.
"By folding the sari four times and pouring the water through it, 99% of the cholera is filtered out," explained De Silva. "It's providing a way for communities that don't have the means of boiling water, or have access to clean water, a way to reduce their chances of acquiring an infection by using items already in their households."
Their plan is to implement the project first in the Sudan, where Osman is from, and then introduce the technique to other areas in sub-Saharan Africa where the disease is most prevalent. They also want to ensure they are working with the communities, within their cultural context and using native materials that will be cost effective and not introducing unfamiliar Western technologies and imposing North American traditions.
"This project is a lot about education. The research exists – we just want to go and teach people how to do it. We're aiming to provide a strategy to low-income countries to use their own cultural clothing to filter out cholera from their water," said De Silva. "We want to give them the ability to continue to eradicate this preventable disease once we're gone. We want to empower them."
In addition to winning $1,000 each at Western's World's Challenge Challenge, the team has now earned its place in the World's Challenge Challenge Global Final in June, where they will compete against teams from 19 other institutions from around the world for a top prize of $30,000.
Their experience competing in the World's Challenge Challenge has helped motivate them to keep moving forward with their idea, said Francis.
"It's already been so inspiring to see what others are working on. If you have an idea, you should go for it. You can find like-minded people and come up with something great. We're already really excited about the Global Final to meet other inspiring people from around the world."
In preparation for the Global Final, the team plans to continue developing their business plan and focus on clearly outlining the next steps for implementing their strategies for the pilot project in the Sudan, with the goal of running the pilot program if they're successful at securing funding.
"We are passionate about this project and we're definitely going to keep working on it," said Osman. "It really blended our love of health and innovation. It's been a phenomenal experience."