Volunteer experience benefits all, says award recipient
For Kate Kim, the benefits of being a volunteer and giving her time to support others is like everything else worth doing in life: "What you put into the experience is what you get back out."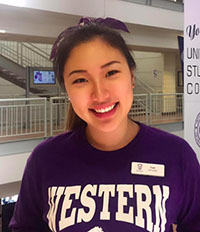 "I've always been heavily involved in volunteering in the community and on campus. For me, volunteering is unique in that, although you're not getting paid with money, you are getting paid with experiences – and often those are something a paid job could never give you," she said.
This year's recipient of Western International's Starfish Leadership Award, Kim has been recognized for her exemplary contributions made to Western International's
Peer Guide Program
. The initiative pairs 90 upper-year Western students (undergrad and grad) each year with newly arrived international students to guide them in their orientation and adjustment to the Canadian culture and the university community.
"I really liked the idea of providing support to non-domestic students and was excited to be part of a team where the focus is on exchange and international students," said Kim, who just completed her third year in Medical Science, specializing in physiology, and has volunteered as a Peer Guide for the past two years.
"The Peer Guide Program is really unique. I had never experienced anything like that. It's such a tight-knit community and everyone cares about each other. I think it's rare to build such strong relationships with peers, as well as staff," she said.
"One of my favourite memories of volunteering happened at the annual outing to Gibbons Park in London. There was a huge dance circle with people of all different ages and cultures and I remember thinking to myself, 'This is why I chose Western.' It was so incredible to see people interacting together so comfortably and having so much fun."
The Starfish Award was established in 2014 by a group of Peer Guides in memory of an exceptional Peer Guide who promoted an inclusive environment and acceptance of different cultures, and made remarkable contributions to the program and the Western community. The award's name was inspired by the
Starfish Story
,
which was adapted from
The Star Thrower
by Loren Eiseley, and has become a well-known parable about an old man on a beach who comes across a young boy throwing starfish back into the ocean to save them. The story's message is that even the smallest things can have an impact.
In the spirit of the
Starfish Story
, the peer-nominated award is given annually to a nominee selected by the selection committee as the Peer Guide who best demonstrates a commitment to making a difference, excellence in leadership, engagement in the community and cultural competency.
Kim's nominator, fellow Peer Guide Team Leader Maria Akhbar, said Kim has served as a role model for her and other volunteers.
"Kate was always really engaged with her team and would take notice when things seemed off. As a team leader, I know the importance of taking care of your team and I was really inspired by how Kate would go the extra mile to support her fellow Peer Guides. She is always eager always eager to lend a helping hand at events. She truly inspires me," Akhbar wrote in her nomination.
In addition to volunteering as a Peer Guide, Kim gives her time to numerous other organizations, both in the community as a volunteer at London's Chelsey Park Retirement Home and University Hospital, and, on campus with the Leadership and Academic Mentorship Program, the Leadership Education Program, and the Summer Academic Writing Clinic. She has also been involved with Summer Academic Orientation, the Western International Welcome Team and the Residence Welcome Team. She encourages other students to get involved and make the most of their university experience.
"By volunteering, I've grown so much from who I was in first year. I've learned things about myself that I don't think I ever would have in classes or with jobs," said Kim. "It's inspiring to be surrounded by like-minded individuals who want to make a difference somehow and it motivates you to become a better person. Volunteering can also teach you a lot of soft skills that you'll carry with you in the future, such as communication skills and empathy, which are so important."