Western welcomes Visiting Scholar Ndame Thomas
Ndame Thomas, EdD, has spent his career working in education and acting as an advocate for children with special needs.
In October, Western welcomed visiting scholar Professor Thomas to the Faculty of Education. A scholar-practitioner of special and inclusive education from Cameroon, Thomas will spend the next one to two years at Western doing research, participating in guest lectures, engaging in community outreach and contributing to campus projects.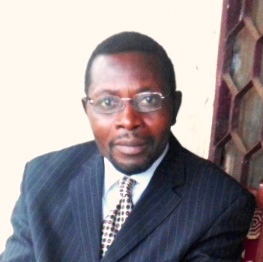 "I am excited to be in London and at Western," said Thomas, who came to Canada in 2019 and spent more than a year at the University of Saskatchewan before coming to Western. "There are a lot of things being planned for my time here and I hope to make a contribution to the campus, as well as in the community through outreach at local schools."
Thomas, who previously worked as a secondary school teacher for more than 10 years in Cameroon before shifting to a career in academia, is now one of Cameroon's leading advocates for the rights of marginalized communities and children with special needs. His research explores practical strategies to advance school- and community-based service-delivery projects, with the aim to improve special and inclusive education.
In an effort to address a lack of services in Cameroon, Thomas and some colleagues founded a community-based inclusive organization, the Multipurpose Support Association Centre, to provide educational and social support services to people with learning disabilities, difficulties and disadvantages. Among the services offered by the Centre are a Pupil Referral Unit, which carries out assessment and designs individual education plans for all children experiencing learning difficulties in schools within selected regions of Cameroon. The Centre also worked with the Landywood Inclusive Nursery and Primary School in Buea, Cameroon, where it created as a model community practicing inclusive school for student diversity with support emphasis on those with disabilities.
Prior to establishing the Centre, Thomas completed a Bachelor of Arts degree in Bilingual (English/French) Modern Letters in 1991, a Postgraduate Diploma in Bilingual (English/French) Language Education at the University of Yaoundé, Cameroon, in 1994, a Master of Arts degree in the Teaching of French at the University of Buea, Cameroon, in 1997, a Master's Degree in Special Education at Mälardalen University in Sweden in 2006, and received his doctorate in Special Educational Needs (EdD) from the University of Exeter in 2012.
In Cameroon, he held teaching positions at the State University of Bamenda and the Bamenda University of Science and Technology prior to becoming a full-time lecturer at the State University of Buea in 2015. While at Western, Thomas hopes to establish relationships with local schools to learn about their approaches to special and inclusive education.
"Although the limitations related to COVID-19 has made community outreach more challenging, I hope to still be able to connect with local organizations – the bulk of it will just have to be online for the moment," said Thomas.
In addition to his research related to special and inclusive education, Thomas is also working on a paper comparing the official policy of bilingualism in Canada and Cameroon.
"One of the reasons I chose to come to Canada was because of some similarities I see between Canada and Cameroon," said Thomas. "Each has 10 provinces, although Canada has additional three territories and both are bilingual, using English and French as official languages. I hope to continue doing a comparative study during my time here. I feel very privileged to be part of this program."
If you are interested in reaching out to Professor Thomas to discuss potential collaborations, he can be reached at tndame@uwo.ca.