Global Undergraduate Awards 2021 Winner Profile
Stephanos Horvers, PhD Candidate
Regional Winner: Engineering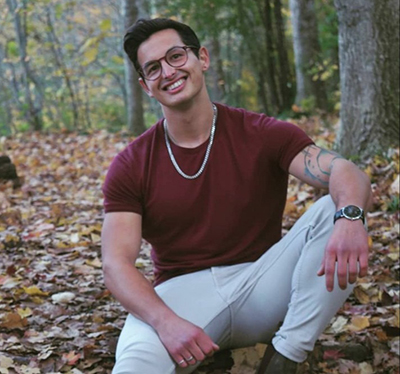 When Stephanos Horvers learned he was being recognized as a Regional Winner of The Undergraduate Awards, it was proof for him that his hard work and commitment were worth the effort.

"I was pretty proud when I got the email," he said of the announcement letting him know that his paper, Thermochemical Conversion of Waste Plastics to Bio-Industrial Resources, had been selected as one of the best in the engineering category. 

"I wasn't always the hardest worker in the past, but now, when I commit, I give it my all. What I'm doing becomes my main focus, so it felt very satisfying to push myself and have this result."

Horvers, who completed his undergraduate degree at Avans University of Applied Sciences in the Netherlands, says he always had an interest in science and grew up with an environmentally conscious mother who taught him from a young age about the harmful impacts we can have on the environment. It was while he was a visiting student at Western that he discovered his love for environmental and chemical engineering. 
His award-winning research paper looks at tackling the global issue of plastic waste by breaking down plastics to their structural components and repolymerizing them into virgin plastics, instead of creating new plastics, in order to significantly reduce the amount of plastics filling landfills and oceans. He completed the paper while completing an internship at the Institute for Chemicals and Fuels from Alternative Resources (ICFAR), a research facility at Western. 

Additionally, the research focused on the creation of bio-fuels from plastic waste with the aim to supplement, and one day perhaps replace, the current fuel sector, he said.

"I did my first work placement a few years ago and I loved that one. Then, in 2019, I did another work placement and that's when I was introduced to the lab that I still work in now. I was hooked," said Horvers, who is continuing his research and lab work as a Chemical Engineering Intern at ICFAR and completing his PhD in chemical and biochemical engineering at Western.

"Over the course of project the paper is based on, we saw huge promise. The results are preliminary, but, overall, it's clear that chemical recycling is more sustainable than mechanical means. In terms of biofuel production, the energy density is on par with conventional fuels which was a tremendously exciting discovery."

In the future, Stephanos hopes to take a broader approach in his research and look at overall renewable forms of energy, such transitioning towards the use of biofuels and fuel cells, and into battery/energy storage technology for use in electric vehicles and grid power storage. 

He's also been encouraging his friends to submit their applications to The Undergraduate Awards, as well.

"I was hesitant when I was first starting out in my research and didn't fully push myself. What really stuck out to me is that, if you approach things with the mentality of 'Yes, I've got this,' and you put in the effort, you can achieve great things."