Scholarship program offers long term opportunities for international students
Jansen Acosta believes it's possible to meet the right people at the right time.
Now pursuing his PhD in chemical and biochemical engineering, Acosta's Western journey first began at 
a London Language Institute classroom a few years ago, when a teacher mentioned the Global Affairs International Scholarships Program for undergraduate students to him.
"It's so hard to believe that things have worked out the way they have for me," said Acosta, who graduated from the National University of Colombia in 2020. "I never would have imagined that I would be back in Canada doing my PhD and working with the same professor I worked with when I came to Western as a Visiting Engineering Student."
When he applied, Acosta said he didn't expect to be selected for the Emerging Leaders in the Americas Program (ELAP), one of the streams offered as part of the larger Global Affairs Canada International Scholarships Program. The goal of the initiative is to provide opportunities for international students from participating countries to conduct short-term study, research or professional development in Canada.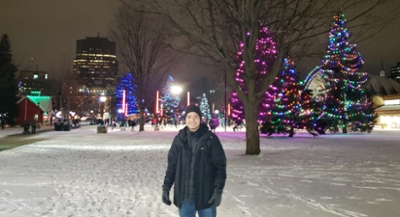 As part of ELAP, Acosta worked with Hugo de Lasa, Western Engineering Professor and Director of the Chemical Reactor Engineering Centre (CREC). Their project and research focused on new innovations in vertical wind turbine designs – a project they continue to work on today.
"International collaboration with several countries in the Latin American region, Argentina, Colombia, Costa Rica, Mexico, and Venezuela has been at the forefront of my activities at Western over the years," said de Lasa. "The ELAP program has facilitated my research collaboration with prospective graduate students, as well as with their home university supervisors. During their sojourn, they can become well-acquainted with various anticipated social, housing, climate and other issues in London. In my view, the ELAP scholarship, provides a great opportunity to attract talented graduate students to Canada." 
The short time he spent at Western had a big and lasting impact, Acosta said.
"Spending four months in Canada was such a valuable experience for me. There are a lot of cultural differences between Colombia and Canada. I developed new skills, met people from around the world, was able to work with wind turbines and collaborate with amazing people."
As he was finishing his ELAP placement and preparing to return to Colombia to finish his undergraduate degree, de Lasa suggested he apply for graduate school at Western. When he was accepted, it felt to Acosta like it was meant to be.
"It was on my last day working with Professor de Lasa that he mentioned applying to me," he said. "I didn't expect the ELAP program to lead to another opportunity, but it did. "It felt like everything led me to this moment. I met the perfect person at the perfect time."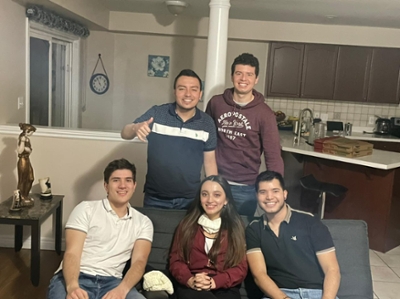 Now that he's back in Canada and at Western, Acosta is doing his part to help others realize their dreams, and provides guidance to students from Colombia interested in applying for the ELAP program.  Recently, he welcomed new ELAP recipients when they arrived in Canada, including Santiago Zuluaga, a 2021 ELAP participant who now works with Acosta and de Lasa.  
"It is a great experience and allows for the generation of academic, cultural and social exchanges," said Zuluaga, who also hopes to pursue a doctorate in Canada. "I would like to apply and contribute my grain of sand to advance in the global academy, and this place is great to do it." 
Western's participation in programs like ELAP is an opportunity to provide value to students, faculty, Western and Canada, said Andreea Ciucurita, Director of International Learning at Western International, who leads the administration of the program and liaises with faculty interested in participating.
"Offering a wide range of programs for students from around the world to engage with our community, our faculty and our students is a critical piece in our overall goal of becoming global leaders. We know that once students experience our campus and the opportunities that we have available, it will be easy for them to see themselves here for the long term. International learning programs can help us to attract the brightest and best from around the globe."
For more information on the Global Affairs International Scholarships Program, contact goabroad@uwo.ca.