Western Abroad
With Western's many active international partnerships and research collaborations, Western representives are abroad at any given time of the year. Official delegations from the University to specific countries and institutions occur periodically to expand partnerships, develop new connnections, reconnect with alumni or establish international research centres. 
Highlights of recent official delegations are below:
October, 2013, China
Western President Amit Chakma accompanied Their Excellencies the Right Honourable David Johnston, Governor General of Canada, and Mrs. Sharon Johnston, on an official state visit to China. During the visit, the delegation attended an official signing ceremony to launch a new business-law program between the Ivey School of Business at Western and the China University of Political Science and Law (CUPL). Western's Faculty of Law is also a key partner in the program and will participate in delivering some of the course content in relation to securities regulation, corporate finance and corporate law generally.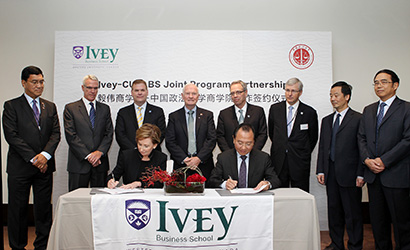 Pictured above, back row: Western President Amit Chakma, Western Faculty of Law Dean Iain Scott, Minister of Foreign Affairs John Baird, His Excellency The Right Honourable David Johnston Governor General of Canada, Minister of Natural Resources Joe Oliver, Canadian Ambassador to China Guy Saint-Jacques, CUPL Vice-President Zhu Yong, CUPL Professor Chai Xiaoqin

Seated left to right, front:  Jan De Silva, Dean, Ivey Asia and Sun Xuanzhong, Dean, CUPL Business School
September, 2013 China
Julie McMullin, Vice-Provost (International) and Mel Goodale, Distinguished University Professor and Director of The Brain and Mind Institute at Western, visited several Chinese universities in September to explore further partnerships and collaboration.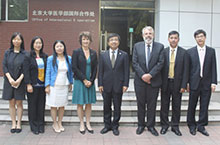 Beijing Medical University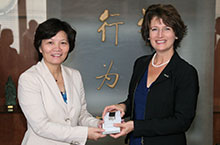 Beijing Normal University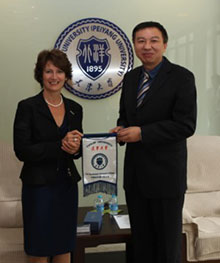 Tianjin University
May 27-30, 2013 China
Provost Janice Deakin and Professor Jesse Zhu (Engineering) visit Zhejiang University of Technology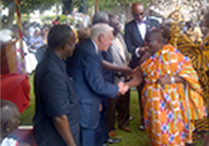 May 13-22, 2013 Africa

President Amit Chakma accompanied Governor General David Johnston on state visits to Ghana, Botswana and South Africa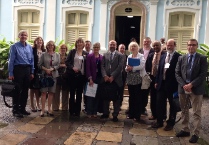 April 25-May 2, 2013 Brazil

Dan Sinai, Associate Vice-President (Research) represented Western as 14 Canadian universities met in Brazil to develop research collaboration in science, technology, engineering, mathematics, and applied research based on university-industry partnerships. (Photo courtesy Canadian Bureau for International Education)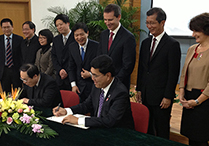 January 13-13, 2013 China
President Amit Chakma and Julie McMullin, Vice-Provost (International) joined former Ontario premier, Dalton McGuinty, on a trade mission to China.