Andrea Burke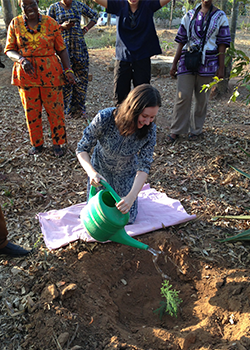 Andrea Burke, BA'17, MA'19, discovered a passion for advocacy and telling women's stories after her 2016 internship in Tanzania with Western Heads East.
A collaborative program between Western staff, students, faculty, and African partners, Western Heads East uses probiotic foods to contribute to health and sustainable development in Africa.
Since 2002, program organizers and interns have worked with local partners, including Mikono Yetu, to establish probiotic yogurt, cereal and juice kitchens in Tanzania, Kenya and Rwanda, with the community kitchens being owned and operated by the local women, known as Yogurt Mamas, and youth groups.
The program is a model of social enterprise and also places interns with community partners for research and project implementation based on their organization's needs.
Then a third-year international relations student, Burke travelled to Africa for three months to work with Mikono Yetu, a women-led, non-profit organization in Mwanza, Tanzania, whose mission is to economically empower women and girls using a gender equality approach to ownership of productive resources, such as land, livestock, capital, and technology.
As an intern, Burke was initially tasked with helping to organize a fundraising event for Mikono Yetu, but soon took on other roles, including assisting with grant writing and administrative tasks.
"While I was there, I also worked on what became my main project, where I interviewed and developed case studies about 11 local women who had been in abusive relationships and who had been helped by Mikono Yetu," she said.
"For example, one woman was helped by giving her access to farmland, so she was able to earn money and economic empowerment. Each of the women had such powerful stories about how they were able to grow thanks to the support of the group."
Although Burke says the often-difficult subject matter and language barrier between the women she spoke to were challenging, the experience had a positive and lasting impact on her.
"Everything was in Swahili and I was definitely not fluent. So, we hired two interviewers and that added an additional level of complexity because then I would end up debriefing with them because of the heavy conversations they were having," she said. "I work in violence prevention now and volunteer on a crisis line, which is similar work, and that is all because that experience informed my outlook on life so much."
"I just fell in love with people's stories. Now, I'm a researcher, in part, because I just loved the case study project that I did. It was so interesting. I love the mechanics of interviewing; I love coordinating them and doing them. But then, I also just love sitting with the material of someone's story and then being able to do something impactful with it."
Prior to travelling to Tanzania, London, Ontario-born Burke had never been outside of Canada or taken a flight. When looking at options for experiential learning, Burke says she was drawn to the longer commitment and the mission associated with Western Heads East.
"I had seen a lot of internships and a lot of international opportunities, particularly international opportunities in spaces that are low-income countries or middle-income countries. They're not as collaborative as one would like, in my opinion. It can be hard to find organizations where you are truly collaborating with the organizations on the ground. That was important to me."
Burke credits her time in Tanzania with broadening her world view and setting her on a new path. Since then, she has completed a master's degree in women's studies and feminist research, with a collaborative specialization in transitional justice, and is now working to complete a PhD.
Although at one point she had hoped to return to Tanzania for her PhD research, travel challenges caused by the pandemic led to a shift in her focus. Now, her research is focused on COVID-19 and its impact on racialized or immigrant women who are essential workers in London, Ontario.
"I'm really excited to collect people's stories. Hearing the stories through Western Heads East is how I fell in love with research and how I fell in love with women's stories, in particular. Women have deep, beautiful, complicated stories."
---
Join us in celebrating 20 years of changemakers and catch up with some of our past interns! Share your memories and learn more about the impact of Western Heads East at westernheadseast.ca/20th_anniversary.