Kathryn Morgan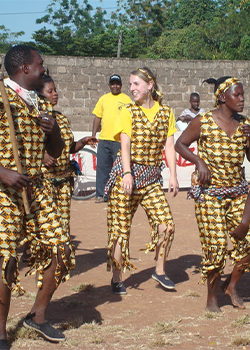 As a Foods and Nutrition student at Brescia University College, Kathryn Morgan, BScFN'12, knew she wanted an internship opportunity that would have a positive impact on people's lives.
Now a registered dietitian working in a diabetes educator role, Morgan says her experience as a Western Heads East intern was an important step in her journey.
"I was interested in international development, but I didn't want to do something that was just a resume builder. I was also interested in food and nutrition. Western Heads East was a great experience that led to other opportunities too. Later, I was able to do another internship at a hospital working with people living with HIV, which I was drawn to because of Western Heads East, and that helped me get a placement to become a dietician," said Morgan, who has worked in an Ontario hospital for the past eight years.
"All of those experiences are about education and working with people and in the same realm of wanting to help people better their lives."
A collaborative program between Western staff, students, faculty, and African partners, Western Heads East uses probiotic foods to contribute to health and sustainable development in Africa.
Since 2002, program organizers and interns have worked with local partners to establish probiotic yogurt, cereal and juice kitchens in Tanzania, Kenya and Rwanda, with the community kitchens being owned and operated by the local women, known as Yogurt Mamas, and youth groups.
The program is a model of social enterprise and also places interns with community partners for research and project implementation based on their organization's needs.
After first being introduced to Western Heads East by a friend, Morgan quickly became involved in their fundraising and education committee before applying for an internship.
In 2010, Morgan travelled to Mwanza, Tanzania, where she and a fellow intern assisted at a yogurt kitchen. In addition to working in the kitchens with the mamas, Morgan was also working on a research study that was part of her coursework at Brescia. She made different types of yogurt flavours and performed sensory testing in Kenya. That led to another research project studying impact of different flavouring agents in her graduating year.
Morgan says she was impressed by the program's commitment to its community partners and its collaborative approach.
"I was always socially-minded and I think that a big draw for me was the empowerment for women and having their own business that they were running. Being there for three months, actually immersed in the culture, helps to keep the project a little bit more sustainable. There's a lasting impact you hope to have with the project," she said.
"What always stood out to me is the grassroots nature of it. You're going over and supporting these businesses, but the idea is to have the people empowered there. I think that being able to send resources, whether that's knowledge or other ways to support the program, is so important."
When they weren't working in the kitchen, Morgan and her fellow interns spent time in the community, taking part in celebrations, dancing and interacting with community members.
"Exposure to different cultures is always a good thing. My biggest takeaway was recognizing the privileges that we (the interns) carry with us and how we can use that to create more equality around the world," she said. "I was humbled by the experience and appreciated that you can immerse yourself in the culture, whether that's food, the language or the people. It truly had a lasting impact on me."
---
Join us in celebrating 20 years of changemakers and catch up with some of our past interns! Share your memories and learn more about the impact of Western Heads East at westernheadseast.ca/20th_anniversary.