Mohammad Almaradweh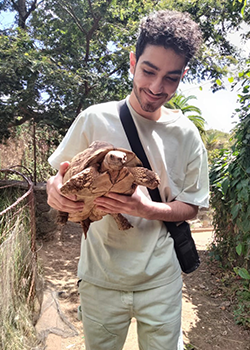 Third-year biology student Mohammad Almaradweh realized at a young age that he wanted to follow in his father's footsteps and become a doctor.
"I remember being five years old and my dad would take me to the office he had when he was a gynecologist in Jordan. I loved it. I would say that I've had a lifelong passion for medicine and health care, in general," said Almaradweh, who plans to pursue a specialty in plastic and reconstructive surgery in the future.
When a friend suggested he join her in applying for the Western Heads East program and travelling to Africa for the summer, Almaradweh discovered an option for a psychology and counselling internship working with researchers at Aga Kahn University Hospital in Kenya.
Western Heads East is a collaborative program between Western staff, students, faculty, and African partners using probiotic foods to contribute to health and sustainable development in Africa.
Since 2002, program organizers and interns have worked with local partners to establish probiotic yogurt, cereal and juice kitchens in Tanzania, Kenya and Rwanda, with the community kitchens being owned and operated by the local women, known as Yogurt Mamas, and youth groups.
The program is a model of social enterprise and also places interns with community partners for research and project implementation based on their organization's needs.
As part of their internships, Almaradweh and his fellow intern were tasked with building on the work of previous program participants to develop materials that encourage the public to seek help for mental health.
"The goal of our project was to destigmatize very popular mental health issues. A lot of people in Kenya have recently come to accept that stress and being exhausted mentally is a real thing that affects a lot of people on an everyday basis. We're trying to advance public knowledge about mental health issues such as ADHD (Attention Deficit Hyperactivity Disorder), eating disorders, OCD (Obsessive-compulsive disorder), and other issues they haven't typically dealt with in the hospital in the past. We're trying to bring new things into the system, which they didn't really consider before, but they now know is actually affecting the population," said Almaradweh. "I acquired a lot of knowledge about mental health that I didn't have previously."
In addition to researching information related to mental health from sources in East Africa and Africa, generally, Almaradweh said they often have to take information from the United States and adapt it to be appropriate in the African context.
"I want to be able to break down cultural barriers while interacting with people of different backgrounds and to be open to different perspectives," he said. "People there seem really scared to reach out for help because there's a really bad stigma around it. I just hoped to be able to help them understand there are resources available to them. I knew I couldn't change the world in three months, but I hoped to provide some useful materials that organizations could continue to use going forward."
Almaradweh says that having the opportunity to participate in an international experiential learning experience and interacting with people from a different culture will be valuable in preparing him for a career in health care.
"This experience helped me advance my knowledge in like public health and has provided me with exposure to how medical systems in Canada run in comparison to in Kenya. Having the having the ability to work with different patients who have different backgrounds helped me expand on my intercultural and cross-cultural communication skills, which I would not get as much exposure to if I did an internship in Canada."
Reflecting on Western Heads East's 20th anniversary this year, Almaradweh says he hopes many more students will be able to benefit from being interns in the future.
"This is a life-changing experience in terms of what you end up acquiring at the end of it: cross-cultural communication skills, being able to actually make a difference in where you are, and just overall new experiences that you would not be exposed to in Canada."
---
Join us in celebrating 20 years of changemakers and catch up with some of our past interns! Share your memories and learn more about the impact of Western Heads East at westernheadseast.ca/20th_anniversary.