Blake Barkley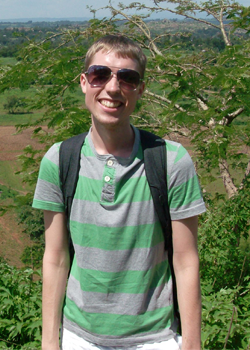 When Blake Barkley, BA'13, began at Western as an undergraduate, he was pretty confident he would major in international relations. What he didn't know then was that a program called Western Heads East would play such a large role in his life as a student and in his future.
"During Western's summer orientation that I attended when I was a high school student, I was sitting with my mom at a welcome presentation and she saw the information about Western Heads East and said to me, 'Wouldn't that be cool?' I filed that away in my mind and then when I saw a work study position with Western Heads East in my second year, I applied," he said.
"I became more and more involved with it and knew I definitely wanted to do the internship once I was a little bit further along in my studies and more prepared to do something like that."
A collaborative program between Western staff, students, faculty, and African partners, Western Heads East uses probiotic foods to contribute to health and sustainable development in Africa.
Since 2002, program organizers and interns have worked with local partners to establish probiotic yogurt, cereal and juice kitchens in Tanzania, Kenya and Rwanda, with the community kitchens being owned and operated by the local women, known as Yogurt Mamas, and youth groups.
The program is a model of social enterprise and also places interns with community partners for research and project implementation based on their organization's needs.
As a work study student, Barkley was "a jack of all trades," providing administrative support and working with the Western Heads East fundraising and education committee, which he would go on to co-chair in his fourth year.
It was after his third year when Barkley applied to be an intern. After being accepted and completing training, he travelled to Kenya provide support in setting up a new kitchen.
"I have always been interested in international relations and when the opportunity to do some type of international experiential learning and the ability to actually leverage what I was learning in a practical place, somewhere else, presented itself, I jumped on that opportunity."
While in Kenya, Barkley worked with a fellow intern, a local teacher and community members to build a lab and a kitchen facility – establishing relationships, procuring equipment, setting up infrastructure and managing the project from start to completion.
"It was great to be able to play a part in helping that process get along because it really was a community approach. The two of us (interns) couldn't have done all of that without the help of everyone else who actually did the labour, who made those relationships possible and helped us connect the dots with where we needed to."
Recalling the grand opening party they held to celebrate the completion of the project, Barkley says it was an exciting time for the community.
"I still can't believe we got there in the timeframe that we did. I honestly have trouble putting into words how I felt about it because there were times when I thought it wasn't going to happen. When it did, it was a bit of relief, a bit of disbelief, and a bit of pride, because it took everybody coming together to really drive it forward to get there. It was certainly a humbling feeling to be able to get across that finish line."
The focus on working closely with community members and collaboration are key values of Western Heads East. Prior to the beginning of their internships, all participants are required to complete training in a number of areas, including critical and ethical global engagement and cross-cultural communication. In addition, program organizers also try to present scenarios to help interns know what to expect when they arrive in Africa.
"The training is so critical if you go into a role where you're doing things related to international development, or just anything that has international partners or stakeholders, so you're able to appreciate the complexity of the system within which you're working. And that's a life skill that is completely applicable, no matter where your career takes you after the internship. It makes you a well-rounded individual, and you're able to appreciate complex things."
While in Kenya, Blake became interested in the local politics, which he says contributed to his postgraduate work, first at the University of Calgary, where he completed a master's degree focused on state fragility and its security implications in East Africa, and then to his doctoral thesis focused on the influence of local politics on Kenya's sizable refugee population, which he completed in January 2022 at Carleton University.
"The experience really drove what I continued to do in terms of my academic career. It was a really pivotal moment for me, in terms of diversifying the experiences that I had, but also getting really hands-on project management experience in international development. It broadened my horizon, both personally and professionally."
Since completing his PhD, Barkley has been working for the Canadian government at Crown-Indigenous Relations and Northern Affairs Canada, which he says is a bit of a departure from his research, but similar in its goals related to empowerment.
As he contemplates what he sees for his future career, he says he's happiest when he's in a role that allows him to contribute positively to society, whether that's research, working at a non-profit organization or a think tank.
"My ego is not so large that I think I am saving the world. But, I want to do something where I can feel like I'm having some type of effect or making some type of impact and helping people in some way."
---
Join us in celebrating 20 years of changemakers and catch up with some of our past interns! Share your memories and learn more about the impact of Western Heads East at westernheadseast.ca/20th_anniversary.