Anisah Hooda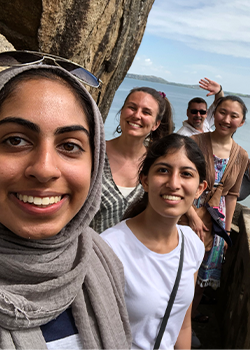 When Anisah Hooda, BHSc'20, MMASc'21, signed up to travel to Mwanza, Tanzania, as an intern with Western Heads East, she says she was hoping to step out of her comfort zone.
"I'm from London, Ontario and I went to Western in London. I hadn't really explored much outside of that. It was a good step for me personally and it aligned with my academic interests," said Hooda. "Also, my family is originally from Mwanza, and I have relatives there, so that was a cool connection that piqued my interest in going there."
A collaborative program between Western staff, students, faculty, and African partners, Western Heads East uses probiotic foods to contribute to health and sustainable development.
Since 2002, program organizers and interns have worked with local partners to establish probiotic yogurt, cereal and juice kitchens in Tanzania, Kenya and Rwanda, with the community kitchens being owned and operated by the local women, known as Yogurt Mamas, and youth groups.
The program is a model of social enterprise and also places interns with community partners for research and project implementation based on their organization's needs.
"I was always interested in global health and public health, and what better way to see what's out there than to go somewhere yourself instead of reading about it or watching documentaries," she said. "There is no better way to learn than being there. I think that really helped me understand the context of different situations and how things differ here in Canada in terms of the health care system."
While in Tanzania, Hooda and her fellow interns worked closely with Maimuna Kanyamala, the director at the Mikono Yetu Centre for Creativity and Innovation. Hooda's main focus was on health promotion and working with the different yogurt kitchens to promote the health benefits of the Fiti yogurt and probiotics to the broader community, including developing training videos and hosting an open house for community members.
"We worked to address misinformation and communicate that despite having been promoted as being good for people who were on the HIV/AIDS treatment, it's also good for everyone as well," she said.
Seeing the importance placed on building community and the power of social innovation have had a lasting impact on Hooda's career path. Since that experience, Hooda participated in other internships and summer jobs related to empowerment and social innovation.
"I think programs like these are valuable because of the power of community engaged learning and really being a part of making a difference and making change. It's rooted in the principle of you learn by doing. Western Heads East allowed me to do that early on, which was helpful to shape the trajectory of the rest of my academic and professional career so far."
Following graduation from health studies, Hooda considered continuing with a Master of Public Health degree. When the pandemic hit and the program moved online, she opted to look for another program and discovered Western's Master of Management of Applied Science in Global Health Systems.
"I think the stars aligned. The course selection was more in line with my interests and it was a great funnel from health studies to global health," she said.
"The Western Heads East program is a great example of the power of social innovation and empowering women. Seeing it motivated me to continue my career and education in global health. My experience in Tanzania was very transformative."
Now that she's completed her master's degree, Hooda is currently working at an impact investing company that provides funding to innovators in low- and middle-income countries.
"I would definitely like to remain in the space of innovation and global health and to continue supporting and incubating innovation, especially as the world evolves and there are more challenges. There is always a need for new ways to address them."
---
Join us in celebrating 20 years of changemakers and catch up with some of our past interns! Share your memories and learn more about the impact of Western Heads East at westernheadseast.ca/20th_anniversary.