The Undergraduate Awards
What are The Undergraduate Awards?

The Undergraduate Awards acknowledge excellence in undergraduate academia across all disciplines through an international call for top scholarly submissions. Students submit high-quality coursework to compete against top undergraduate scholars from around the world.
Why should I submit my coursework?
Global Gold Medal recipients of The Undergraduate Awards are invited to Dublin for an all-expenses-paid trip to receive their medal and attend a three-day Global Summit. Highly Commended (top 10%) are invited to attend the Global Summit and receive some support from Western to do so.
Students selected to receive The Undergraduate Awards also have access to support, the UA alumni network and other opportunities to raise their profiles and further their career paths.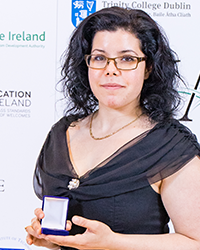 "The Undergraduate Awards provides students with a unique opportunity to disseminate knowledge on issues they are passionate about. Not only are students able to share significant findings, they also learn from cutting-edge leaders at the UA Global Summit. I highly recommend students to submit works that they feel create impact."
Amy Lewis
2017 Global Gold Medal Recipient
Nursing, Midwifery & Allied Healthcare
Who is eligible to apply?
Students in their final year, or second-last year of an undergraduate degree program, OR those who graduated in 2017 (includes second-entry undergraduate degree programs such as law, medicine, dentistry, business, social work, etc...)
Western encourages submissions from both main campus and Affiliate University Colleges
Part-time students who are studying an undergraduate degree may also take part in UA, on the basis that they have completed at least two-thirds of their program.
There are 25 categories ranging from the sciences, to social science, to arts and humanities, to professional programs.
What can I submit?
Any piece of individual undergraduate coursework that received an "A" grade or higher.
Selection Criteria
Students are chosen for their innovative approach to their subject area – "creating world-class research to tackle some of the world's toughest challenges." The Undergraduate Awards gather a panel of academics in each field to anonymously assess the work. They select the top 10% in each category, and from that, the winner.
How To Submit
Step 1:
Students register online at undergraduateawards.com. Interested students should do this step immediately to hold their space and ensure they will be able to submit their final papers by the deadline.
Step 2:
Once their paper is polished, students will submit them independently to The Undergraduate Awards by the June 12 deadline. Students submit their coursework online, making sure their name and university is not included in the actual submission.
There is no fee to register or enter your work. Students may enter up to three individual submissions.
View Previous Highly Commended Papers
The Undergraduate Awards highly commended papers from previous years are available through the Scholarship @ Western website.
More Information
The Undergraduate Awards website
Past Undergraduate Awards Results, Photos and Videos for Western

In 2017, 43 papers by 38 students were selected as "Highly Commended" or the top 10% in their fields.
Amy Lewis, BScN'17, won the Global Gold Medal in Nursing, Midwifery and Allied Healthcare
Bridget Murphy, BSc'17, won the Global Gold Medal in Earth & Environmental Sciences


Three students had papers selected as regional winners - best papers in US & Canada:
Emily Csiszar (Law)
Hunster Yang (Psychology)
Melanie Matthews - King's University College (Social Sciences: Sociology & Social Policy)


More details on our 2017 Results
In 2016, The Undergraduate Awards (UA) recognized 33 papers by 29 Western students as Highly Commended Entrants - or the top 10 per cent in their fields. This is the second highest number of highly-commended papers in the world, out of 244 institutions and more than 5,500 submissions worldwide. Mary Wang was selected as a gold medal recipient in the category of Language and Linguistics. In addition, five others received regional awards for the top papers in all of the United States and Canada: Mallory Jackman, Rebecca Meharchand, Naciza Masikini, Jethro Kwong, and Michelle Bunton.

Watch this video from The Undergraduate Awards Global Summit 2016, featuring some Western students.
In 2015, 27 Western students were selected among the Highly Commended. Jane Hutchison and Michelle Harder were the only Canadian students to win top honours, receiving the winning medals in the categories of Education, and Literature (Pre 1710).

Watch this video from The Undergraduate Awards 2015, featuring Professor Joel Falfak, Director of Western's School for Advanced Studies in the Arts & Humanities (SASAH).
In 2014, 11 Western students were invited to attend the Global Summit in Dublin as their papers were selected among the "highly commended."  Milani Sivapragasam, a graduate of the Bachelor of Medical Sciences program, received the winning medal in the category of Medical Sciences.

Watch this video from The Undergraduate Awards 2014, featuring three Western students!, to hear about the experience.