International Internships

International internships are a great way to gain experience related to your degree and immerse yourself in a different culture and country. Internships are generally defined as "a work placement abroad, usually working in a pseudo-professional capacity, where the primary motivation is educational. Internships may be credit or non-credit and paid or unpaid."*
*Source: The Canadian Bureau for International Education.

Would you like an international experience from the comfort of your own home? We also offer virtual internships.
Benefits of an International Internship
Gain relevant work experience in a global setting
Build a global perspective and intercultural skills
Expand your knowledge
Immerse yourself in a different culture
Meet new people and expand your global network
Improve professional skills in a dynamic environment
Program Details
Most major international destinations are available
Prices range based on length of internship, destination, and internship provider
Bursaries and scholarships are available
Western students receive a discounted rate
Receive full support from Partner Internship Provider
Most students intern during summer months but dates are available throughout the year
Students may arrange to receive course credit for their internship experience
Who Can Apply?
Internships are generally available to all students at main campus and Affiliates from first year to graduate level. However, there are some different eligibility requirements depending on the program, so please refer to requirements for each program in Atlas.
How to Apply?
Before You Apply
Before you can pack your bags, you'll have to decide what kind of international experience you want to have, and which program is right for you. This guide will help you to ask the important questions and make sure you pick the program that's best for you.
Search available programs via Atlas, Western's International Learning portal
You can narrow down your search by selecting various filters, such as destination, term, type, subject area, language of instruction
Under "Type" in the right-hand side of the search box, select "Internship" then "Apply Search"
Review details and eligibility requirements for your program of interest. Application deadlines vary between October and February
Application fees* and additional fees* vary by program (* Fees are non-refundable)
Watch our video on Searching for Programs in Atlas
Come to an information session to learn more about the application process and your program options
Visit our office during drop-in hours to speak with our International Learning Coordinators or International Learning Ambassadors (trained student leaders who have participated in a Western international learning experience). 
Apply Online
To begin an application for a program, visit Atlas to select your desired program
Before starting your application, read the entire program page to ensure you meet the eligibility criteria. Once you are ready to start an application, click the "Login to Apply" link at the bottom of the program page. Complete and submit your application
Application fees* and additional fees* vary by program (* Fees are non-refundable)
Please note: do not login unless you are proceeding with an application
Please note that you may apply for only one program per term. Additional destinations or program options can be listed in the Program Selection section of the application under the "Optional Program/Destination" dialogue box. Please do not submit multiple applications.
There are general application questions you should be prepared to respond to when completing your online application in Atlas, such as:
Why do you wish to be considered for the program (academic and personal reasons)?
List any extra-curricular, volunteer and work activities that you have been involved in over the course of your University career.
What have you done to prepare yourself to live in a culture different from your own? How do you think you will cope with the differences?
Discuss a stressful experience in your past and how you dealt with it.
Many partner institutions and organizations require a separate application in addition to the one required by Western International. This secondary application may be available at the time of the application in Atlas or may be provided to you at a later date
Some programs may require supporting documents. Submit any supporting document by the application deadline
Watch our video on Submitting an Application in Atlas
Application deadlines vary by program, generally between late Fall and early Winter terms. Check specific program details in Atlas
After You Apply
Western International will review and evaluate your application and update your application status in Atlas
Your application status will remain in "Pending" until the program coordinator evaluates your application. You will be notified via email whether your application has been approved or not
In some cases, you may receive a conditional approval. The program coordinator will contact you to let you know what additional information is required to move your application to "Approved"
After receiving your program offer via email, you must accept or decline your offer within the specified time indicated in your offer email. Students who do not respond by the deadline are subject to automatic withdrawal
Before departing for your international experience, you are required to complete the  pre-departure and safety abroad requirements
Arranging Your Own Experience
If you find your own internship opportunity abroad and have been approved by your academic department or faculty to participate in the experience, ensure that you complete the University Sanctioned International Experiences form in Atlas to begin the Travel Registry process, which is a requirement of Western's Safety Abroad Policy.
As well, consider the following important matters:
Visas/Permits: Investigate your host country's authorization to work requirements. Depending on the length of your internship, you may need to apply for a work permit or visa. Many work permits and visas take time, so you should plan to begin this process well in advance of your internship start date.
Employment Contract or Letter: Your employer or host organization may request that a letter or contract be signed by Western. If this is the case, contact your Department or Faculty's career services specialist, or Bob Gough, Director, International Internships and Development, Western International.
Out-of-Country Health Insurance: You are responsible for ensuring that you have adequate out-of-country health insurance during your time abroad. Some organizations may require you to sign up for coverage that they will arrange. If you are arranging your own health insurance, be sure to review and become familiar with exactly what your plan covers, how long it lasts, and where and how it works. Be sure to ask whether the plan covers pre-existing medical conditions.
Western Heads East Internships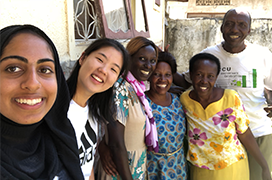 Western Heads East (WHE) is a unique interdisciplinary program founded at Western in 2002. Western Heads East offers a challenging, dynamic, competitive, and multidisciplinary learning opportunity for student interns to grow and assist with health and sustainable development through probiotic foods, working with established African partner organizations and academic institutions.
Since the project began in 2002, over 100 Western student interns have participated in the program from a variety of academic backgrounds, such as business, health science, science, social sciences, food and nutrition, women's studies, nursing, medicine and education, among others. There is a minimum 90-day internship commitment in Kenya, Tanzania or Rwanda. WHE does not have a set program fee, but students cover travel and living expenses.