Pair recognized with first annual Western International Volunteer Award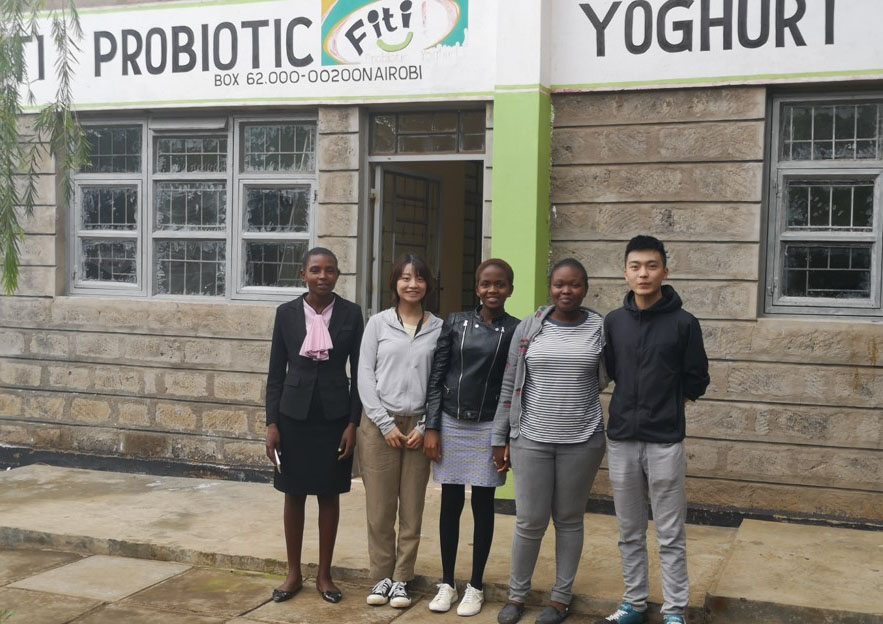 A pair of volunteers with Western Heads East (WHE) has been selected as co-recipients of the first annual Western International Volunteer Award.
Wenjing Liu and Yaoshen Fang, both fourth-year students in the Foods and Nutrition Program at Brescia University College, were recognized this month for their outstanding commitment and dedication to WHE, a program that takes Western interns, staff and faculty to Africa to collaborate with local partners to establish highly effective disease-fighting probiotic foods and probiotic yogurt kitchens.
The award was recently established as a way to celebrate Western students who have made a substantial contribution to Western International over the year and was open to nominations from peers and supervisors of student volunteers.
Criteria considered by the selection committee included excellence in leadership, commitment and contribution to the volunteer program and Western community; a kind, compassionate, and positive attitude towards Western students, staff, faculty and other community members; and a passion to make a difference.
Stephanie Huff, Western Heads East Program Coordinator, submitted the nomination for consideration and says when she heard about the volunteer award, Wenjing and Yaoshen's names came to mind immediately.
"I was thrilled when I learned we could submit co-recipients," she said. "Wenjing and Yaoshen have been tremendous supporters of our programming. Having previously completed WHE internships in Kenya in the summer of 2019, they continued to show interest in the program by volunteering as food and nutrition interns for the 2019-2020 academic year. Throughout this time, they went above and beyond as volunteers, dedicating time on weekends and their Reading Weeks to conduct lab work and organize a group activity for youth from our local partner organization, Youth Opportunities Unlimited (YOU)."
Liu and Fang, who are both slated to graduate this June with a Bachelor of Science in Foods and Nutrition with an honours specialization in Nutrition and Dietetics, say their experiences with WHE have been unforgettable.  
"When I was looking at opportunities, I knew I really wanted to go to Africa to help people. Helping women get started to make their own yogurt and be independent was really meaningful," said Liu, who plans to move home to China following graduation to work in a health-related field.
"We have a lot of privilege as Western students and it's important that we meet the people there on the same level as them, and work with them. It's also important to give back whenever you can," she said.
Fang, who hopes to continue in this field of study, is applying to pursue a Master's Degree related to food and nutrition. 
"It was so exciting to find out we had been given the award," he says. "Western Heads East was a mind-changing program for me. You get to apply your knowledge and apply your skills. Volunteering helps you to keep building your experience and also help people at the same time."
The pair also agrees that their internships and volunteer roles have helped open them up to greater opportunities and learning.
"My advice to other students would be to find a volunteer position that lets you try to develop your understanding of the world more and don't limit yourself by staying in your comfort zone for too long," said Liu. "You can always go back to your comfort zone if you want to, but then you'll have a wider view of what the world is like."