The Canadian Robert T. Jones, Jr. Scholarship Foundation
"The Canadian Robert T. Jones Jr, Scholarship Foundation was established by Roger N. Thompson, an alumnus of the Ivey Business School at Western University, who admired the timeless qualities of Bobby Jones and wanted to further internationalize a memorial to Bob Jones in Canada." 
In 1989, a scholarship fund was established between Western University, London, Ontario and the University of St Andrew's, Scotland. The Canadian Robert T. Jones Jr, Scholarship Foundation was established by Roger N. Thompson, an alumnus of the Ivey Business School at Western University, who admired the timeless qualities of Bobby Jones and wanted to further internationalize a memorial to Bob Jones in Canada. The Foundation operates as a registered charitable organization under the Canada Income Tax Act.
Initially, the first student exchange was between Western and the University of St Andrews, Scotland. Starting in 1996, Queen's University was added to the program in an exchange with St Andrews. Jones scholarships are based on academic ability and personal qualities; golf skill is not a criterion.
Jones Scholarships are awarded for one year. Students winning the coveted awards spend a unique year living and studying in Canada or Scotland, further developing the transatlantic ties that were so important to Bobby Jones.
"To my generation and to all who remember his play, he will remain the greatest golfer of all time and it is inconceivable that in the foreseeable future another will arise to match his record. By this deportment through life and on the golf course, Jones set to all an example that should never be allowed to die."
— Leonard Crawley | British Walker Cup-player, author
Awarded to students who have applied, interviewed and been accepted to participate in the exchange program to University of St Andrews in Scotland. For more information, please visit the St Andrews Exchange Program page in Atlas, Western's international experience database.
Amount: $7,000
Featured Student Testimonial
Emily: My exchange at St Andrews was truly amazing!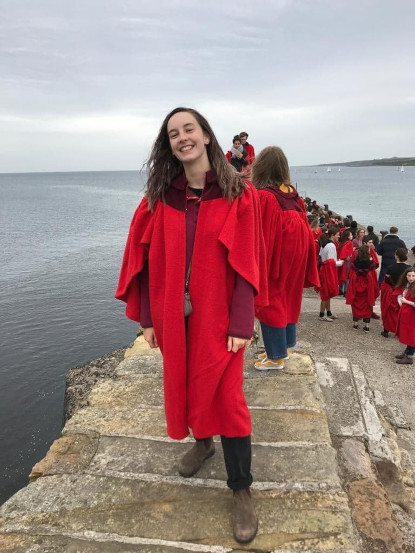 "I was around so many people I could relate to—many of them enjoy what they study and pursue different kinds of creative avenues and it's honestly very refreshing. I think it's wonderful that I met so many different people from all over the world who enjoyed trying new things and expanding their comfort zones. I feel like I've grown a lot as a person this year and my perspective on many things has changed. I finally feel comfortable in my surroundings and I feel like I've made authentic connections with likeminded people because we share our experiences and what we have learned from our diverse backgrounds and upbringings. 
My international experience at St Andrews has been so impactful because it has completely changed my life. This experience has allowed me to really work on self-growth as I have discovered aspects about myself including new interests and capabilities. I had the chance to try very new and different things such as solo travelling and attending fancy balls. I have faced many challenges and fears that now make me feel more capable and ready to take on different and more challenging tasks in both my academic and personal life.   
I am honestly going to miss St Andrews and all the great people I met there." 
Photos taken during Emily's exchange
Quotes from previous awarded students
"Studying at the University of St. Andrews was not the culmination of my international travels but only the beginning. I will be returning to Europe this November to attend the Undergraduate Awards Summit in Dublin, Ireland because of a political philosophy essay I wrote while at St. Andrews." Taylor Rodrigues
"It helped me to grow academically as I adjusted to a new learning environment, interpersonally as I worked with individuals from all over the world and intrapersonally as I was able to re-examine my own views and beliefs from a different perspective." — Kayla Duncan
"Studying in another country as part of one's degree is something which I have always wanted to participate in as it is such an incredible opportunity to live in different country and experience the academic setting and culture there. As someone who has only lived in small towns in Scotland, the chance to live and study in Canada was too great to miss out on." — Alasdair Johnston
Past Participants