International Learning Awards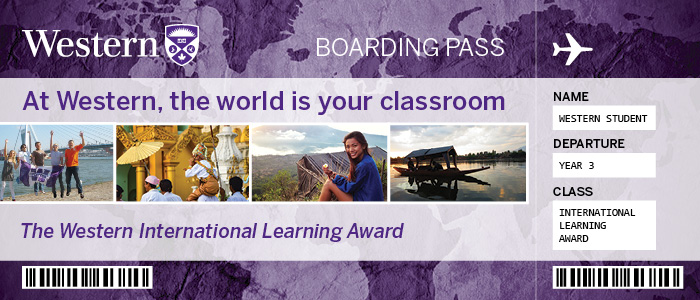 Available to full-time undergraduate students planning an international learning experience in the summer immediately following their first year of studies up until the end of April in their fourth year of studies. If you have a cumulative average of at least 70% with a full-time course load at the end of the most recently completed term, you will be eligible for a $1,000 award to help finance an international learning experience. First Year students will be awarded the funds after Winter term grades are recorded.
What kind of experiences are eligible?
Students can participate in any of the following experiences. Experiences should be at least one week in length.
Academic Exchange
Summer Study Abroad
International Field Courses and Faculty-Led Programs
Impact Experience
Internships
Practicums, Clinical and Field Placements
International Research
Other University-Led Experiences
Conferences are not an eligible experience for this award.
To qualify for the award, the student's chosen international experience must meet at least one of the following criteria:
Be organized or approved by Western University staff, faculty or department
Be eligible for academic credit
Form a required component of the student's degree program

Who qualifies for the award?
Full-time undergraduate students registered in a regular undergraduate program who have a cumulative average of at least 70% at the end of the most recently completed term
First Year students are invited to apply but funds will be awarded after Winter term grades are recorded
Students enrolled in a second-entry undergraduate degree do not qualify for the International Learning Award (e.g. business, dentistry, law, medicine, and education)
Recipients of National Scholarships are not eligible
Students registered at affiliate university colleges are not eligible
Experiences inside Canada are not eligible
Students may only receive one International Learning Award during their Western career.
How to apply
Students should complete the online application form prior to participating in the international experience. 
There are two application deadlines annually: November 15, with decisions being released late-January; and February 15, with decisions being released early April.
Successful applicants will be notified via their Western email address.
Contact Information
Anne Kantor
Student Financial Services Officer
Office of the Registrar
Western Student Services Building
pkantor@uwo.ca