Global and Intercultural Engagement Honour
Global & Intercultural Engagement Honour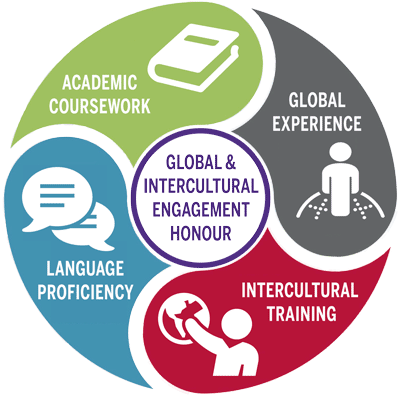 About the Honour
Contemporary globalized society favours university graduates with global and intercultural competencies, and Western's Global & Intercultural Engagement Honour will recognize and reward students' experience and engagement in such activities during their time at Western.
Once achieved, the Honour will appear on the student's official transcript upon graduation. The structure of this program allows students to incorporate both curricular and extracurricular activities. Students awarded this Honour will be global-ready graduates: they will have the skills required to navigate and succeed in an increasingly globalized reality, both professionally and personally.
Learning Outcomes
Develop intercultural skills that will enhance interaction and recognize multiple perspectives when engaging with people from diverse countries or cultures
Understand the complexities of global issues, such as culture, history, geography, world market, economy, social and political trends affecting today's globalized society
Learn to adjust own attitudes and approach to global engagement as a reflexive practitioner
Apply intercultural and global learning with increased self-confidence to their personal, academic and professional life
Who is eligible?
Undergraduate students in any Faculty at main campus, and at Brescia, Huron and King's University Colleges. Students at Law and Ivey are also eligible to enrol in the Honour. At this time, graduate students are not eligible to enrol. 
Why achieve the Global & Intercultural Engagement Honour? 
There is no cost and it can be completed in conjunction with your degree program.
Enhance your degree with recognition on your transcript for global and/or intercultural experience
Develop intercultural communication skills, knowledge, and global awareness that employers seek
Connect with other global-minded peers and grow your professional network
Broaden your perspective on the world and increase your cultural awareness and knowledge
How to achieve the Honour?
The Global & Intercultural Engagement Honour is awarded upon successful completion of the following components, including earning 100 points from the categories below:
Application Process
Enrol in the Global & Intercultural Engagement Honour by completing an application in Atlas, Western's international experience portal. Click on the 'log in to apply' button at the bottom of the program page when you are ready to begin your application.
Complete the "Foundations for Intercultural Competence & Global Engagement" online module. You can access the module on OWL - Western's online learning platform by joining the "Global Learning and Education" site.
A reminder that this module must be completed within the same term (Fall, Winter, Spring/Summer) of your application being submitted to become a Global Honour candidate and before starting the "Category 2: Global Experience at Home or Abroad" requirements. 
Upon completion of the module, you will be required to upload your certificate of completion in Atlas.
Submit evidence of completion for:
Foundations for Intercultural Competence & Global Engagement Online module
Self-assessment (core competencies)
Submit evidence of completion for all Category requirements, attaching supporting documents in Atlas, where applicable 
Upon completion of all Category requirements, write a critical reflection, using prompt questions, to articulate how the impact (personal, academic and professional) of your experiences and learning through the Global & Intercultural Engagement Honour has influenced your global awareness and intercultural fluency development.
Pathways to Achieve the Honour
Being awarded the Honour without second language skills
| | |
| --- | --- |
| Economics 3312A/B - The Global Trading System | 10 points |
| Economics 3324F/G - Economic Development I | 10 points |
| Economics 3325F/G - Economic Development II | 10 points |
| Economics 3326F/G - The Economic History of Europe I | 10 points |
| Economics 3327F/G - Economic History of Europe II | 10 points |
| Exchange Term to Maastricht University, the Netherlands | 20 points |
| Volunteer in the International Learning Ambassador program (min. 141 hrs.) | 30 points |
| Total | 100 points |
Being awarded the Honour without going abroad
| | |
| --- | --- |
| History 1801 - Major Issues in World History | 20 points |
| History 1805E - Science, Technology and Global History | 20 points |
| Arabic 1030 - Arabic for Beginners | 20 points |
| Western International's Peer Guide Volunteer (min. 71 hrs.) | 20 points |
| Volunteer at an approved local organization (min. 71 hrs.) | 20 points |
| Total | 100 points |