Category 2: Global Experience at Home or Abroad
Category 2: Global Experience at Home or Abroad
Required: 20 points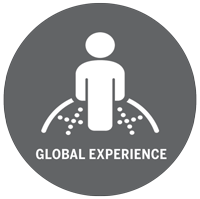 Gain global experience at home or abroad. Choose from a number of different options to satisfy this category requirement:
How points are accumulated
| | | |
| --- | --- | --- |
| Global Experience Abroad | Global Experience at Home (volunteering) | Points |
| 1 to 3 consecutive weeks | 25 to 70 hours within one term | 10 points |
| 4 to 6 consecutive weeks | 71 to 140 hours within one term | 20 points |
| 7 plus consecutive weeks | 141+ hours within one term | 30 points |
Global Experience Abroad
Search global experiences abroad in Atlas, Western's international experience portal.
*These experiences can count towards Category 1 because they are connected to curricular courses at Western; however, the experiences cannot be double counted towards Category 1 and Category 2.
Other university-sanctioned credit or non-credit global experiences abroad that are not listed in Atlas may be considered for this category requirement. A university-sanctioned experience is considered an activity that has been approved, authorized, and/or supported by a Western University unit, department, staff and/or faculty member. Students who would like to claim an experience that is not listed in Atlas must provide additional documentation at the time of application. 
Global Experience at Home
Experiences at home include a significant global or intercultural component. Choose from a range of experiences which qualify:
International Learning Ambassador (Western International)
International Peer Guide (Western International)
English Conversation Leader (Western International)
Volunteer with a local international or intercultural organization that serves multicultural groups and provides the opportunity to interact with individuals from various cultural backgrounds
Serve as an executive member of a global or cultural-focused student club or group at Western
Impact Experience (formerly Alternative Spring Break)
Experiences within this category are not retroactive, as such they cannot be started prior to submitting an application for the Global and Intercultural Engagement Honour. 
Supporting documents are required to prove completion of global experiences abroad or at home. Acceptable supporting documents include transcripts, certificates of completion, or letters of verification from a supervisor, Western University unit, department, staff and/or faculty member.
Please note: If you are planning to participate in a global experience with an organization abroad or at home, we request you submit a claims request form (pdf). Upon completion of the experience you are required to provide a certificate of completion or letter of recommendation from your program supervisor.
Students must claim a minimum of 20 points to a maximum of 50 points from Category 2.

Contact goabroad@uwo.ca with questions or for more information.